Blog
December 11, 2008 - Move That Bus!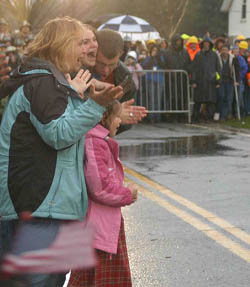 Welcome home Girard family! Today, thousands of spectators braved the pouring rain to chant those magic words: "Move that bus!" There were lots of hugs and tears as Carol, Adam, Jacqueline, Lucas and Hannah got their first look at their brand new castle.

It was a great ending to a very exciting week. We had rain, wind, extreme cold and snow, but somehow we managed to build a castle in just 106 hours. We are so grateful to everyone who helped us make life a little easier for one very special family. Be sure to watch ABC's 'Extreme Makeover: Home Edition' Sunday, Feb. 8, at 8 p.m. for the Girard Family episode!
December 10, 2008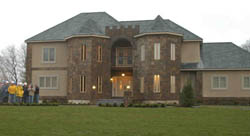 Tomorrow is the big day, and all we have to do is put on the finishing touches. The kitchen is done, the three fireplaces are in, the geo-thermal heating system is up and running and we have a driveway. Our fabulous landscapers braved the pouring rain and some very muddy conditions to make sure the yard is ready for the big reveal.

We are expecting the Girard family home tomorrow afternoon, and we can't wait to show them their house! Spectator buses will be running all day, beginning at 8 a.m., from Foxwoods Lot 10 to the Girard's new house in Voluntown, so please come welcome them home.

Again, a special thanks to all of the companies, volunteers and individuals that made this project possible.

We'll be back with a final blog entry tomorrow, but today, we'd like to leave you with this poem by Rene Lavallee of Uncasville, Conn.

"No one can replace the loss you bear
Or even come close to the sorrow you share
Still it's nice to know that your neighbors in Voluntown
Are always there to help all around

There are folks like Ty who can build you a home
And help to make happier days
People in your town know you're not alone
For these folks help in many ways

It's a great feeling in a world of disarray
That people still help each other
Like Ty and his crew that say
Let's help out our sister and brother"

December 9, 2008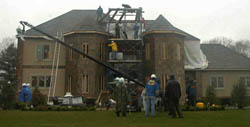 Building is progressing at an incredible pace today. The roof is up, workers from Dexter Mason Contractors have applied stone to the exterior and crews from The Kitchen Guy and The Edge Countertops are working on the kitchen. Solar panels, courtesy of SolarWrights and SunPower, have been installed. The Girard's now have an 8.1kW solar energy system, which is estimated to produce about 9,300kW per year. Their electric bill will be so low, it will be the envy of everyone in the neighborhood!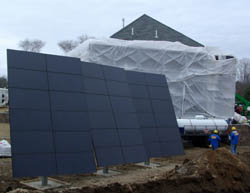 Today was also a big radio day. WILI-FM (98.3), WBMW (106.5) and WWRX (107.7) were all here, and we'd like to thank them for their support. We've also had wonderful coverage from The Day, Norwich Bulletin and many of the local television stations. (Check out the coverage here.) Additionally, Megan and Angelica, the intrepid reporters from Norwich Free Academy, scored an interview with Extreme Makeover: Home Edition Designer Rib Hillis. Way to go girls!
December 8, 2008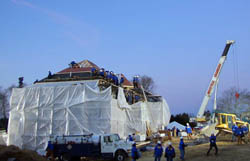 Yesterday we had a hole, and today we have a whole house! Despite severe winds last night and frigid temperatures throughout the day, we were able to accomplish a lot. The garage has been shingled, we are finishing the roof, and we just heard that there is finally some heat in the house - which is very good news for our dedicated volunteers.

Our volunteers are working incredibly hard in some very cold temperatures, and they could use your support! We are actively seeking donations of baked goods, so if you'd like to help, please bring goodies (baked without nuts to avoid allergic reactions, please) to the tent located behind St. Thomas church, which is just down the street from the house.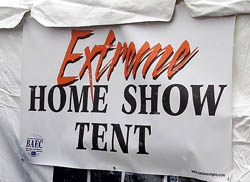 It's a flurry of activity at the site, and volunteers will be working extra hard to make up for some lost time. Feel free to come show your support, and if you do, be sure to visit the Extreme Home Show tent. There, you can find out more about the vendors helping to build this spectacular house, sign up for a chance to win a 42-inch flat screen TV, donate to the Girard family (we've already raised $3,400 in the tent alone!) and even get an up-close look at Matt Kobyluck's racecar!
December 7, 2008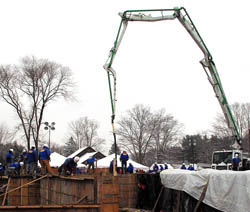 Not even a little snow can stop Bruno and the team! Last night, temperatures dropped below freezing and the snow began to fall. The conditions caused some delay, but the folks from Kobyluck, American Industries and Morin Concrete worked all day to pour and set the foundation. While the weather has put us a little behind schedule, the site is buzzing with positive energy and Bruno and the team expect to make up any time lost during other portions of the build.

In addition to building the Girard Family a wonderful new home, we've arranged to pave the parking lot behind the family's church, St. Thomas the Apostle. The church has helped the family in many ways and we couldn't think of a better way to thank them.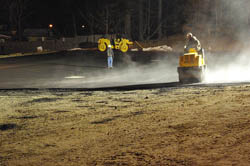 We'd also like to give a special thanks to AEN Concrete for donating materials, and to attorney Nicholas Scola for donating the funds for the paving project.

Volunteers are now working around the clock, and we couldn't do it without all of the wonderful people and businesses that donated food, drinks, lodging and other goods and services. Thanks to all of you, especially Foxwoods Resort Casino and Jennifer Tillinghast of AmericInn Lodge and Suites.

Be sure to check back soon for more updates!
December 6, 2008 - Demo Day!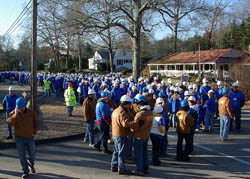 This morning was amazing - hundreds of volunteers wearing the signature blue shirts, with layers of warm clothing underneath - as well as team project leaders in Home Designs by Bruno jackets - joined in the Braveheart march to the project location. Despite the cold temperatures, the atmosphere was charged with excitement and the warm wishes of everyone anxious to help the Girard family. Then, a trumpet fanfare sounded as medieval knights on horseback rode through the crowd. The knights used battering rams to break down the front door of the old home and began tearing apart the inside of the home with medieval tools. Then, in a stunning display, the house was taken down by one of Kobylucks enormous excavators!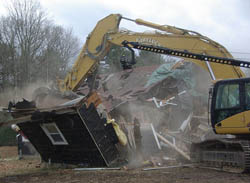 As soon as the house was down, the clock began ticking. Builders and volunteers who had been waiting on the sidelines were ready to take over and descended on the site and quickly got to work. The folks from Kobyluck Sand and Gravel removed the concrete foundations of the old house and excavated the basement in just two hours. The septic system was installed by Vespa, and LaFramboise drilled a well. We're moving right along schedule - great job everyone!

Overnight, we plan to pour the foundation, and by tomorrow morning, we should have walls. Check back for details, and don't forget, tomorrow is the first official day for spectators, so come say hello!
December 5, 2008 - The Family Heads to Disney World!


Today, with the Girard Family off to Disney World, we got down to business. While the build doesn't official start until after the demolition tomorrow, we've already accomplished a lot. The site has been prepared – asbestos has been removed, trees have been cut down and dumpsters have been delivered. Tomorrow is demolition day!
All spectators and non-trade volunteers MUST park at Foxwoods Lot 10. The parking area is on Route 2. Shuttles will take you to the site, and we are asking that everyone bring either a canned good to donate to a local food bank OR a toy to support Tommy Toy Fund. There will also be a blood drive at Voluntown Elementary School from 10 a.m. to 4 p.m. Saturday through Monday. Spectator and non-trade volunteer buses will run from 8 a.m. to 5 p.m. each day, beginning on Sunday.
December 4, 2008 - Door Knock Day!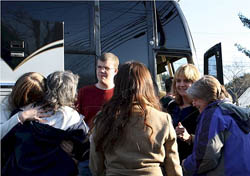 One swift knock at the door is all it takes! This morning, the Girard family was finally told that they will be getting the house they so greatly deserve. This family has been through so much – first, their house burned down last year, then husband Thom and 18-year-old son Marc both died in a tragic swimming accident. We are all so happy that this family will finally have something to cheer about!
After meeting with the designers, Carol, Adam, Jacqueline, Lucas and Hannah will be heading to Walt Disney World. When they come back, the whole community will have built them a new home.
Spectator hours begin on Sunday, so feel free to come down and watch all the action! For hours, directions and parking information, visit www.extremehomebybruno.com/faq.html.
Also, feel free to check out our build schedule here: http://extremehomebybruno.com/PDF/PrelimBuildSchedule.pdf.
Check back for more updates soon!
December 4, 2008 - A Note From Bruno
To all Volunteers Both Trade and Non-Trade,

I wish to thank each and every one of you men and women that have stepped up to help this needy family. I know that these times are tough - the toughest we've ever seen - but each of you has gone out of your way, put aside your life, your business, and your own families to step up to help a family in need. Words can not express the love I have for each of you. You didn't have to do this - yet you have.

I know that this build is going to be the greatest thing any of us have ever done, by far. All I ask is that each of you spend this time safely and be proud. Be proud, be so proud of yourselves. If not for you this family would not have the best Holiday gift any of us could have given to another human being. Be proud that you were apart of something that you will be able to look back on as one of the best things you have ever done. Be proud that your children, your spouses, your friends, will never look at you the way they used to. While it is clear that none of you came into this build ever thinking about these things, but you should be proud for them. I am very proud of each of you for doing this.

This is the beginning of Helping our Heros of today. My hopes for all of us is that we all walk away from this build a better person than before. I for one am not the same person I was before I got involved. I feel more confident in mankind because of all of you. I am proud to be your Builder and wish all of you a great build.

Bless all of You.
Bruno

December 3, 2008
Tomorrow is the big day! Ty and his team will knock on the door of one deserving family, and the clock will start ticking. Everything is coming together and we are all so excited to get started.

At a little after noon tomorrow, we will be able to provide all volunteers and spectators with information about where to go and when. Spectators are invited to witness the build beginning Sunday, Dec. 7, and we are asking that all site visitors bring a canned good for our food drive - all food items will be donated to the Gemma E. Moran United Way Labor Food Center - or a toy to donate to Tommy Toy Fund. We will also have a blood drive on site.

Today has been an incredible day. Thanks to an announcement on WCTY, we had an outpouring of support for our much needed septic system. A special thanks to Chops and JB Concrete of Putnam for coming through for us. Also, a special thanks to Anderson Law Firm P.C. for donating $10,000 in support of this project.

Of course, we are still collecting donations! Every little bit helps. Click here to give.

More tomorrow!
November 26, 2008 - Help us make a difference!
Since our rally, Bruno and the team have received an overwhelming response from sponsors, donors and volunteers. Thousands of you have already stepped up!

Additionally, Morin Concrete Contractors, Daniel Makin Jr. Construction and S & S Concrete Floors answered our call and will be pouring the concrete foundation of the house. We can't thank them enough!

There are still plenty of other ways to help. One of the best ways to help is to donate money, which will go directly to the homebuilding effort. While we have received a tremendous amount of supplies and services, there are some costs we just can't avoid! Please consider giving anything you can to help a very deserving family. To donate, click here.

We are also looking for the following donations:

Eight 40 ft. flatbeds to deliver materials from Springfield, Mass., to the build site in Eastern Connecticut. Contact Dino at (860) 608-1842 for shipping schedule and details
A company to accept solid demolition waste from the build site, or to pay tipping fees
6 mil plastic sheeting
Thanks again to all of you who have already made donations and agreed to volunteer. Check back soon for details about our planned on-site blood drive and food collection!
November 20, 2008 - Pep Rally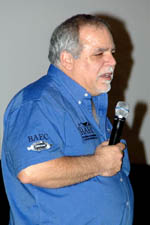 Our pep rally was a huge success! More than 400 sponsors and volunteers packed Foxwoods' Grand Pequot Tower Ballroom today as Bruno and Conrad Ricketts, Extreme Makeover: Home Edition's executive producer, kicked off what is sure to be an amazing few weeks.

Ricketts fired up the crowd with touching stories about previous Extreme Makeover projects. He also said he was not sure he had ever seen a larger turnout at a rally - clearly, we are off to a good start!

At the rally, an emotional Bruno thanked all of the volunteers and sponsors who have already stepped up, including Foxwoods, which donated the use of the ballroom. He also said that despite the outpouring of support, he is still in need of donations, including monetary donations that will pay for miscellaneous build expenses and be given to the family.


Other things Bruno still needs: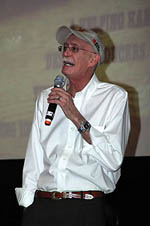 A waste management service for debris from the demolished house
Insulation
Mail box
Garage doors
Trucks to transport large panels (house)
Silt fencing
Foam for geothermal foundation
Company to pour concrete foundation
Plastic for windows
Interior doors
Storage trailers
Gators
Sill sealer
RVs/ Campers
Concrete galley's and catch basins
We will officially begin the build on Dec. 4. Until then, we are still looking for
sponsors
and
volunteers
, so spread the word!