The Team
Bruce Hayn and his team from Home Designs by Bruno are thrilled to be helping an area family in need through Extreme Makeover: Home Edition. Our company, one of the nation's largest regional homebuilders, has always made community service a major priority.
Here is a bit more information to help you get to know our key players in this unique project.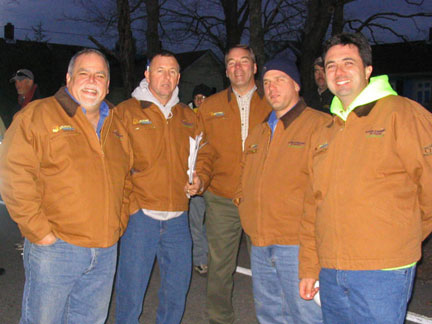 From Left: Bruno Hayn, Tony Skut, George Mattern, David Gesiak, Dino Tudisca
---
Builder: Home Designs by Bruno
Owner: Bruce "Bruno" Hayn
For years people who wanted a custom home design would seek an architect who could complete the design in a timely fashion, however, due to the cost and/or percentage of fees asked, the consumer often abandon this avenue. This opportunity has created Home Designs By Bruno, a locally based company dealing in designing homes, additions, and drafting services for the general public. Bruno is not only a custom home designer, but was once a builder, which means he has already experienced, many times over, most heartaches and troubles that can occur in a building project. His expertise, knowledge and experience in the home design and building field can clearly smooth the way for the first time builder, as well as the savvy builder, by avoiding many common and often traumatic decisions a home builder will have to make during the building phase of their project. For more information about Home Designs by Bruno, please visit their website.
George Mattern
Mattern Construction, Inc.
Mattern Construction prides itself on providing the highest standards of quality, service and commitment. We consider our clients to be partners and strive to exceed their needs and expectations. With over 50% of our clients being repeat customers, we are dedicated to owner satisfaction. For more information about Mattern Construction, please visit their website.
David Gesiak
Gesiak Construction, Inc.
If you are in the market for a renovation or new construction look no further. You have found the company to hire!!! Whether you are taking the first step of planning and executing the building of a Custom Home, or doing Renovations to an existing home, we can make the job easier for you! We know that this can be overwhelming, but with us helping you through the steps you will in the end know that your decision was the RIGHT one. We offer quality workmanship, reliability, dependability, and pay great attention to detail. For more information about Gesiak Construction, please visit their website.
Dino Tudisca
Exterior Solutions
Exterior Solutions has been serving Southeastern Connecticut for over 20 years. We specialize in all phases of home remodeling, including complete makeover. We provide high quality interior/exterior home workmanship and customer service that is among the best in the industry. Nearly 80% of our business comes from repeat clients and referrals. For more information about Exterior Solutions, please visit their website.
Anthony Skut
RAS Home Builders
RAS HOME BUILDERS Builders of fine New England homes for over 25 years. Complete custom home packages from start to finish. We handle every detail of your house so you can enjoy your new home building experience. Build your dream home on one of our beautiful treed lots or your own property. Build with our plans or have our design team design your dream home or addition. We build all types of homes, seasonal 2nd homes, garages, and light commercial. RAS Home Builders is a CT Licensed Septic Installer and can install or repair your failing system. For more information about RAS Home Builders, please visit their website.
Brandon D. Hyde
Hyde Park Landscape, Inc.
Hyde Park Landscape, Inc. is a professional and responsive landscape company with over 28 years of experience. Our team of educated and experienced professionals can Design, Install and Maintain your landscape. We can take your landscape project from concept to completion and anywhere in between. There is no project too large or too small! We will listen to our customers' needs and pay attention to every detail until the end. We have been serving Eastern Connecticut since 1980. Call us today to discuss your landscape needs. We offer free estimates in a timely manner. For more information about Hyde Park Landscape, please visit their website.
Brenda Harvey
Seacrest Painting, LLC
Seacrest Painting, LLC is a Connecticut painting contractor serving CT and RI's painting, wall papering, and paint color consulting needs. We specialize in restorations, remodels and new constructions. Seacrest Painting, LLC will give your home or new construction a quality finish that will last for years to come. We provide the homeowner or contractor/builder with professionalism, accountability, and the superior workmanship you would expect from a professional painting company. For more information about Seacrest Painting, please visit their website.
Designer: David P Schulze - AIBD
www.dps-labs.com
I am affiliated with the American Institute of Building Design, and I have been nationally certified in building design by NCBDC. My contribution to this project is it's appearance. I like to say that:
o - I am what the house looks like,
o - Bruno is what the house works like, and combined,
o - We are what the house feels like.
My specialization in "Curb Appeal" is brought to life in the form of animated computer models and 3D renderings. On this project, 3D computer models were used for some interior design as well. Design validation (Building the house using the computer simulation) was especially important because once the clock started ticking off the 106 hours, there simply was no time to "Come up with a fix". Technically speaking, this is all called "Building Information Modeling".